Learn What Original Medicare Covers
Original Medicare is made up of two parts: Part A provides your hospital insurance while Part B provides medical insurance for things like doctor visits and check-ups.
Part A is your hospitalization coverage. An easy way to remember it is your "room and board" for inpatient hospital stays. Part A covers your stay in a medical facility and the related services, at a high level, while you're there. 
Most people don't have to pay a premium for Part A because they worked at least 10 years in the U.S. and paid Medicare taxes during those years. If you didn't work or pay taxes but your spouse did, you may still be eligible for Part A benefits.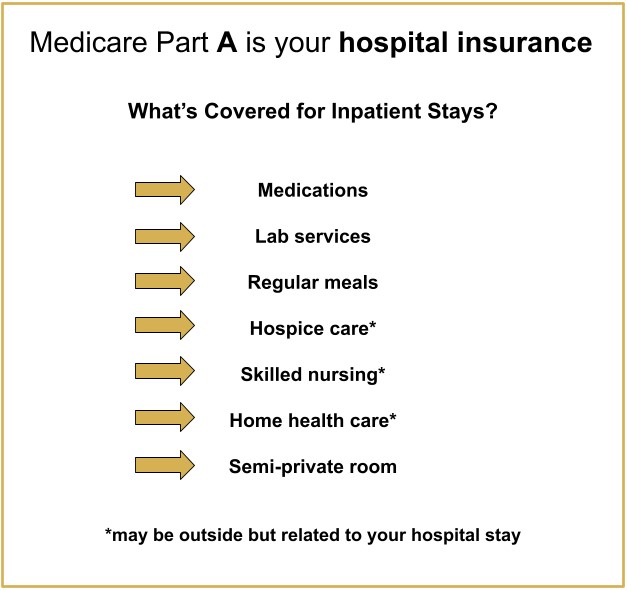 If you've worked and paid FICA taxes for at least a decade (40 quarters) in the U.S., you pay no premium for Part A. Some people have to pay a premium, depending on their income. 
You may have to pay copays or a deductible for any covered services but you can apply for help if needed. In addition to a $1,484 deductible for every benefit period, you're responsible for additional costs.
When Is Enrollment Automatic?
Some individuals get Medicare Part A automatically and others have to actively enroll. It normally depends on whether you're receiving Social Security benefits.
If you aren't getting benefits from Social Security or the Railroad Retirement Board (RRB) at least four months before you turn 65, you'll need to sign up with Social Security to get Parts A and B. For people who need to sign up, you can do so online, visit your local Social Security office, or call 1-800-772-1213 (TTY: 1-800-325-0778). 
Important note: People who don't qualify for premium-free Part A will need to enroll in Part B to buy Part A. 
Medicare Part B is health insurance that covers medically necessary or preventative services in an outpatient setting. Medically necessary means the services or supplies are required to diagnose or treat your health condition. Preventative services help detect or prevent illnesses.
Yes, Medicare Part B has a deductible of $203 in 2021. You owe this amount before you can access benefits. You'll pay it directly to the provider, not Medicare. Medicare will tally these paid expenses — as reported by your doctor — and will know when you reach your deductible. 
After you meet it, you'll pay 20% for most services. If you need a lot of medical care, it can really add up. There's no limit on what you might have to pay on your own.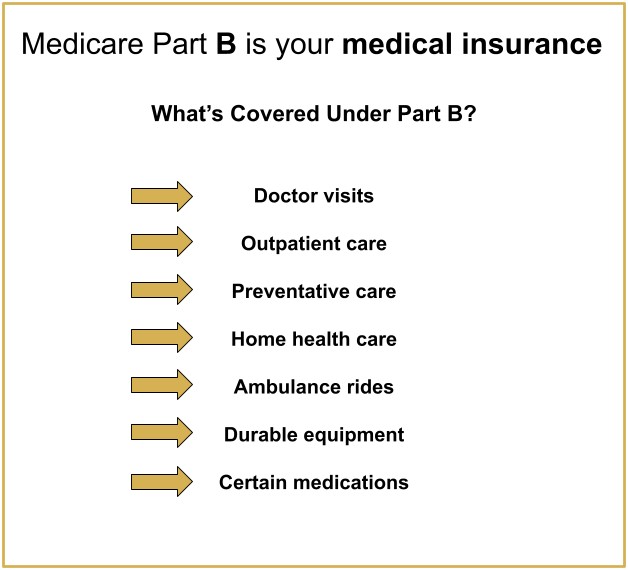 There are many variables that determine your Part B premium, like when your start date is as well as your income level. 
The standard premium in 2021 is $148.50, but not all beneficiaries pay this amount. 
On rare occasions, you may be required to pay an additional 15% in excess charges if your state gives permission and a doctor chooses to charge the extra fee.  
When to Enroll in Original Medicare
When you turn 65 or otherwise become eligible for Medicare, you'll have your Initial Enrollment Period (IEP). Your IEP begins three months before and ends three months after the month of your 65th birthday (a seven month window). If you have employer or plan-sponsored coverage when you first become eligible, you won't need to enroll until you retire or otherwise lose the coverage. 
Part B Late Enrollment Penalty
If you don't sign up for Part B when you're first eligible, you may be faced with a late enrollment penalty — your premium may increase by 10% for every full 12-month period you were eligible for but didn't enroll. There's a common exception to this. 
If you're still working at age 65 and covered by your employer's health insurance, then in most cases you don't need to sign up for Part B yet. Once you stop working, you'll have a special enrollment period of eight months after your employment ends in which to sign up for Part B.
Learn More About Supplemental Coverage
Generally, Original Medicare only pays the first 80% of Medicare-approved costs. You're on the hook for the other 20%, and many folks don't know that there's no maximum out-of-pocket limit on that 20%.
However, you have options to lower, cap, or eliminate your out-of-pocket costs, including Medigap and Medicare Advantage plans. Keep browsing our site or site or call ReLion Insurance Solutions to see how a Medicare Supplement policy can benefit you!