Supplement Your Original Medicare Benefits
Medicare Supplement (Medigap) plans are "supplemental" policies — sold by private insurance carriers — that you can add to your Original Medicare benefits. It's important to have additional coverage that can help with the deductibles, copayments, and coinsurance that Medicare leaves behind.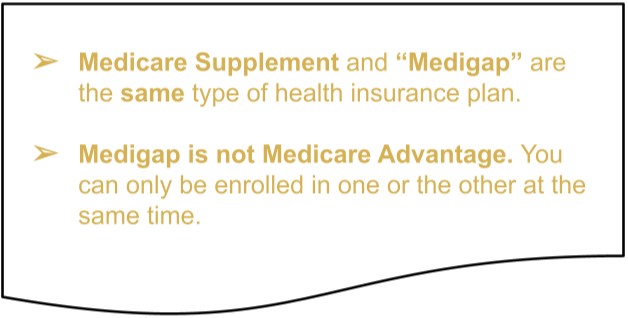 The Medicare Supplement works hand-in-hand with Medicare, which only pays the first 80% of Medicare-approved healthcare costs. Depending on which plan you choose, the Supplement will pay all or part of the remaining 20%. These plans have little to no copayments and no required network of health care facilities, doctors, and other healthcare professionals. This means you have access to any hospital or physician that accepts Medicare in any state.
Important Note: Medicare Supplements do not include prescription drug coverage, so Part D needs to be picked up in a separate plan.
What Does a Medicare Supplement Plan Offer You?
A Medicare Supplement offers you more flexibility (no network), but at a higher premium. Available plans range from letters A to F, and each type of plan offers a different level of benefits or coverage. So you can choose the plan that best fits your needs and budget.
Am I Eligible for a Medicare Supplement Plan?
If you're enrolled in Medicare Parts A and B, you're eligible for a Medicare Supplement plan. 
When you purchase a policy, you'll continue paying the Part B premium (the standard amount is $148.50 in 2021) and you'll pay a monthly premium for coverage that you can take with you. The exact amount you pay varies depending on your chosen plan and provider.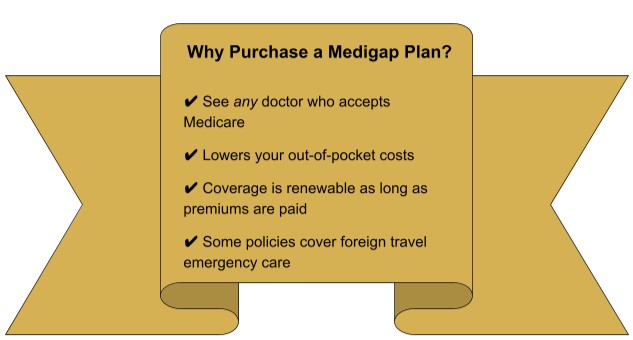 How Are the Premiums Determined?
Medicare Supplement insurance companies set their premiums in one of three ways:
Community-rated: Your premium is the same whether you buy a plan at age 65 or 70. Your rates may go up, but not because of your age.
Issue-age-rated: Your rate is based on your age when the company first issues you a policy. Premiums may go up due to inflation, but never due to your age.
Attained-age-rated

: Your rate is based on your current age when you buy the plan. It will keep going up as you get older.
When Should I Buy a Plan?
The best time to buy a plan is during your Medigap Open Enrollment Period. This six-month window begins the first day of the month you turn 65 and are enrolled in Part B. During this period, insurance carriers can't use medical underwriting, and you tend to get better prices and have more plan options to compare.
Will My Plan Cover Dental, Vision, and Hearing?
While a Medicare Supplement plan is a great addition to your Original Medicare benefits, you should know that even Plans F, G, and N don't cover everything. For example, they generally don't cover hearing aids, vision or dental care, eyeglasses, private-duty nursing, or long-term care. 
If you need coverage for these items or services, consider a Medicare Advantage plan, long-term care insurance, or other ancillary products.
How Do I Purchase a Medigap Plan?
You can buy a policy through the insurance carrier directly or use a broker like us. As licensed, professional, and Independent Agents, our team represents the top-rated plans and Supplement carriers in 22 states. Our independent status allows us to objectively assess your personal situation and evaluate the coverage options in your local area.
Finding the right Medigap plan as a senior doesn't have to be complicated. The agents at ReLion Insurance Solutions are on your side. Let us help you navigate through your options and choose the best policy at the best price!