Discover How a Separate Prescription Drug Plan Can Help
Medicare Part D refers to the stand-alone prescription drug plan. These plans are based on different formularies (lists of covered medications) and have different premiums and copayments. Some plans have deductibles and some don't.
Medications are broken up into different tiers or levels, including preferred and non-preferred generic and brand-name drugs. All plans are based on CMS (Medicare) guidelines and have the same initial coverage stage. There is a penalty for not having a creditable prescription drug plan during the correct time frame.
Medicare Part A and Part B do not cover prescription drug benefits. For prescription drug coverage, you can enroll in a separate Part D plan. Many Medicare Advantage plans already offer prescription drug coverage as part of their benefits package.
Medicare Part D coverage must be creditable or you may be subject to a Late Enrollment Penalty when you enroll in a plan with Part D benefits.
Is Medicare Part D Mandatory?
Part D is optional Medicare coverage, but it's very important. When some seniors go on Medicare, they aren't taking any medications so they don't think they need a prescription drug plan. 
Let's assume 10 years from now, you're taking multiple medications and one of them is name brand. In that case, you want help with that medication, so you enroll in Medicare Part D. You'll be penalized for every month that you were eligible for that drug plan and didn't sign up for it.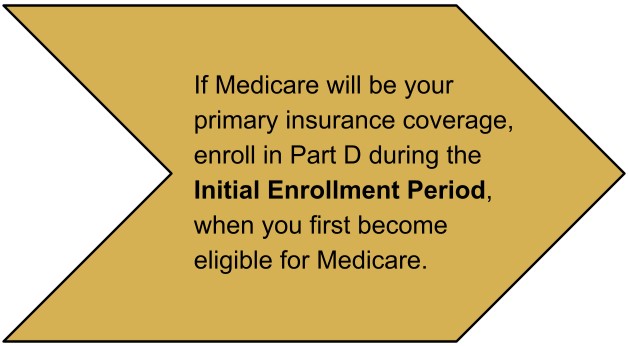 Even if you're not taking a lot of meds in the beginning, we advise our clients to sign up for a Part D plan to avoid being penalized in the future. 
Not signing up now could result in a costly fine that you'll have to pay in addition to your monthly plan premium — and unfortunately, the penalty lasts for life.
When to Enroll in Medicare Part D
If you're on Medicare and need to add Part D coverage, you can do so during certain times of the year, known as enrollment periods. It can get a little confusing, but ReLion Insurance Solutions is here to help.
You also have the option to enroll, disenroll, or switch to a different Medicare drug plan during the Annual Enrollment Period. You may also join a Medicare Advantage plan that includes Part D coverage during this period, which is from October 15 to December 7.
Some folks are still working at 65, which impacts how and when they get their Medicare coverage. If you're actively working at age 65 for a large employer (more than 20 employees) and have group insurance, you may wait to enroll in Part D until you retire. You won't face a penalty for doing this. Just make sure your employer coverage is "creditable".
When you retire and that coverage no longer applies, you'll be given a Special Enrollment Period to sign up. Other reasons may also make you eligible for a Special Enrollment Period.
Most beneficiaries with prescription drug coverage should prepare to pay some of the costs on their own. For example, your out-of-pocket expenses may include:
A monthly plan premium
A yearly deductible
A coinsurance or copay during your Initial Coverage Period
A portion of your costs after this period and before the Catastrophic Coverage begins
For 2021, there are four payment stages for Medicare prescription drug plans. Your out-of-pocket costs in Part D plans depend on which coverage phase you're in.  
The Donut Hole is the gap where you have less coverage.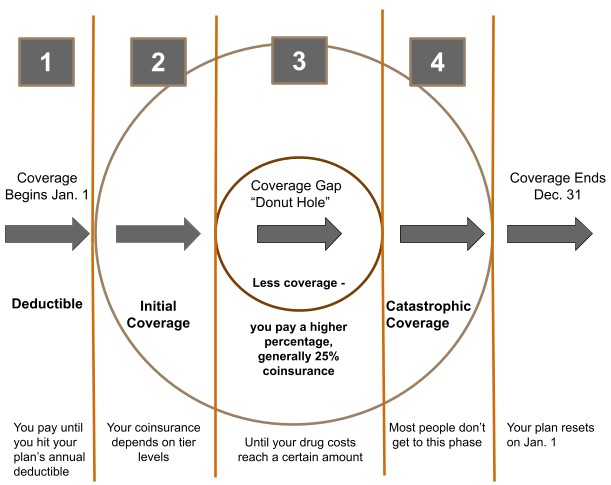 1) Yearly Deductible Phase
You could pay 100% of your drug costs until you reach your plan's annual deductible. It can vary by plan, but the highest it will be in 2021 is $445. 
2) Initial Coverage Phase
You pay a copay and/or coinsurance for every medication. If you and your plan spend a specific combined amount – $4,130 in 2021 – you'll reach the Initial Coverage Limit.
3) Coverage Gap Phase – "The Donut Hole"
The donut hole is closed, but if you exceed the Initial Coverage Limit, you enter phase 3. At most, you'll pay 25% of the cost of your covered prescription drugs.
4) Catastrophic Coverage Phase
If you spend more than $6,550 in 2021, you'll enter phase 4. For the rest of the year, you'll pay a small price for every prescription drug covered by your plan.

Notes: The coverage cycle restarts on January 1 of each year. Also, the dollar amounts for each phase may change from year to year.
Get Help from ReLion Insurance Solutions
Shopping for a prescription drug plan can be overwhelming because of the many options available. Contact ReLion Insurance Solutions. We'll help you compare plans and obtain the right coverage based on the meds you're taking.