We'll Help You Understand Your Medicare Options
For many seniors, Medicare can feel like a confusing maze of parts and letters. Don't worry, though, because ReLion Insurance Solutions is here to guide you. With over 20+ years of combined experience, our team has the knowledge, skills, and integrity to support you in choosing a Medicare plan that fits your unique situation.
As licensed, professional agents, we represent the top-rated Medicare plans and carriers in 22 states. Our independent status allows us to objectively assess your situation and evaluate the coverage options in your local area. We've worked with over 5,000 clients. And we've continued to apply our knowledge, experience, and creativity to provide them with advice and solutions. 
What Does Medicare Cover?
There are four parts to Medicare. Part A covers you while you're admitted to the hospital as an inpatient. Part B provides coverage for doctor's visits, medical equipment, preventative testing, and outpatient surgeries and procedures. Parts A and B are known as 'Original' or Traditional Medicare.
Part C is better known as Medicare Advantage. It's another way to receive your Medicare benefits — through a private insurer and not the federal government. Lastly, Part D is your stand-alone prescription drug plan.
You can visit www.medicare.gov/coverage and search whether a particular service is covered by Medicare.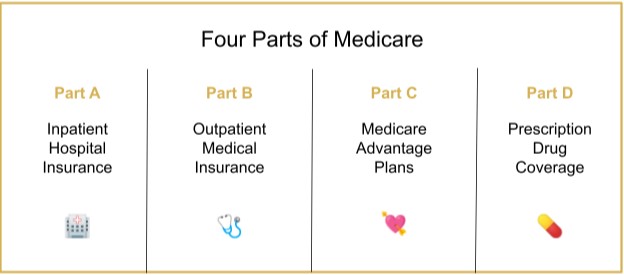 What Does Medicare Not Cover?
It would be unwise to assume that Original Medicare will cover all your healthcare needs. It's often not enough to only have Parts A and B. For example, Medicare does not cover:
𝗫 Dentures
𝗫 Hearing aids
𝗫 Plastic surgery
𝗫 Long-term care
𝗫 Massage therapy
𝗫 Health care outside the U.S.
𝗫 Routine dental and vision care
Depending on your situation, you might consider long-term care insurance, a Medicare Supplement policy, or a Medicare Advantage plan that gives you additional benefits. 
Those looking to supplement Original Medicare with a Medigap policy will normally have a six-month period to apply without health conditions being taken into account.
It's important to understand how Medicare and Medicaid are different. Medicare is a program designed for people age 65 and older, while Medicaid is mainly intended for low-income people. 
Some people meet the qualifications for both Medicare and Medicaid. They're known as dual-eligibles, and Medicare will be their primary insurance and Medicaid will be secondary.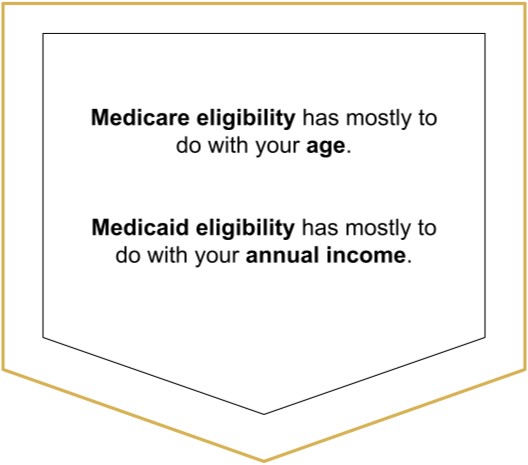 Do You Have Medicare Questions?
You're in the right place.
Whether you (or your spouse) is turning 65 this year or this month
Or you just turned 65 and are looking for a plan
Or you're in a plan that's not working for you
Or you're under 65 and disabled and qualify for Medicare
Or you're looking for help for your parent(s) 
ReLion Is Your Medicare Advocate
At ReLion Insurance Solutions, we believe in continuous improvement. We're always on the cutting edge of Medicare news, plans, and changes so that every client can rely on us to be their advocate and resource. Keep browsing our site for more information, or give us a call today!