Medicare Eligibility and Enrollment
Find Out Whether You Qualify and When to Enroll
Many different conditions come into play when you're considering enrolling in Medicare. Medicare is a special kind of health insurance because you don't always have to sign up for benefits. If you're already acquiring Social Security benefits, you'll be auto-enrolled into Original Medicare. You don't have to do anything, and the coverage will start on the first day of the month you turn 65 — unless your birthday is the first day of the month. In that case, your coverage will start on the first day of the month prior. 
You'll get mailed an envelope with your Medicare card about three months before you turn 65. 
It's critical to understand how to get started with Medicare, whether it happens automatically or not. We're here to answer your questions about Medicare eligibility and enrollment.
The Pros and Cons of Automatic Enrollment
If you're automatically enrolled in Original Medicare, it works in your favor because you don't have to worry about missing your window to access coverage. It can also remind you to review your health insurance and modify the coverage to suit your specific needs.
The only downside to getting auto-enrolled into Medicare is for people who don't research their options. Having only Parts A and B is often not enough, and that's where we come in. You can work with a qualified agent at ReLion Insurance Solutions — we'll evaluate your situation, inform you of additional coverage options in your area, and make suggestions based on your needs and budget.
When Are You Eligible for Original Medicare (Parts A and B)?
You're eligible when you're at least 65 years old or under 65 and qualify based on a disability or other unique situation. You also must be a U.S. citizen or a legal resident who has lived in the U.S. for at least five consecutive years.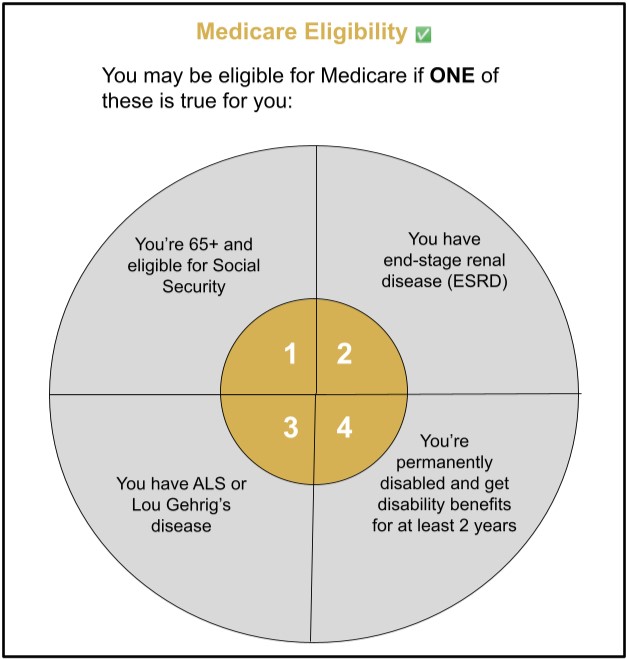 Who Needs to Sign Up for Medicare?
Not everyone is automatically enrolled in Medicare Parts A and B. If you turn 65 and are not receiving Social Security or Railroad Retirement benefits at least four months before your 65th birthday, you'll need to sign up on your own. 
It's crucial to understand the seven-month Initial Enrollment Period surrounding your 65th birth month. You have the three months before you turn 65, your birthday month, and the three months after to enroll without documentation.   
Those who don't enroll during the Initial Enrollment Period can sign up during the General Enrollment Period or a Special Enrollment Period. But there could be a permanent penalty for the folks who delay Medicare enrollment at age 65. 
To enroll in Medicare without getting Social Security, you'll still go through the SSA or Social Security Administration. You can find the application online.
What If You're Still Working?
If you're still working at age 65 and covered by your employer's health insurance, then in most cases, you don't need to sign up for Part B yet. Once you stop working, you'll have a special enrollment period of eight months after your employment ends in which to sign up for Part B.
Medicare Enrollment Periods
At ReLion Insurance Solutions, we want to help you understand the different enrollment periods and what they mean for you and your coverage. That way, you can mark your calendar for these important dates.