Explore an "All-in-One" Alternative to Original Medicare
Medicare Advantage (Part C) is a feasible alternative to Original Medicare. Its added benefits are a clear strength, but it also has some drawbacks. 
Medicare Advantage vs. Original Medicare
Medicare Advantage blends Medicare Parts A, B, and in most cases, D into one convenient plan. Original Medicare only consists of Parts A and B, and you must be enrolled in these parts to join a Medicare Advantage health insurance plan. 
Both Medicare Advantage and Original Medicare cover inpatient hospital stays, as well as outpatient treatments like office visits and walkers and wheelchairs. 
However, Medicare Advantage is only offered through private insurance companies, not the federal government. It has additional benefits (see below), and some plans include prescription drug coverage. Medicare Advantage can also help beneficiaries pay their Part B premiums.
Important Note: Not every hospital that accepts Medicare will take Medicare Advantage.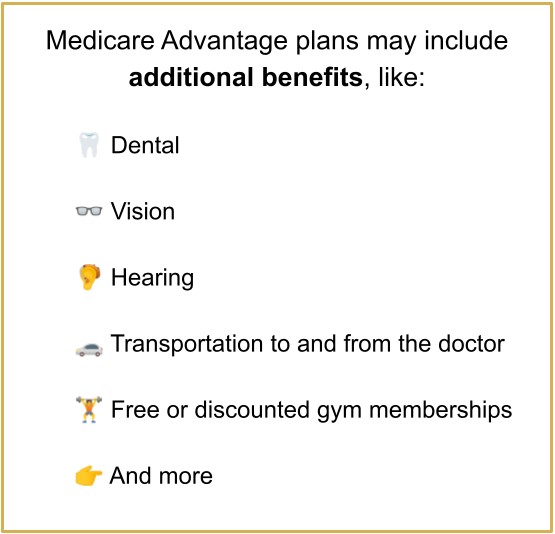 Maximum Out-of-Pocket Limit
There's one more important distinction between Medicare Advantage and Original Medicare. With Parts A and B, there is no out-of-pocket maximum, so you have to pay 20% of your services again and again. 
With Medicare Advantage, a maximum out-of-pocket (MOOP) is set each year — in 2021, the amount is $7,550. This cap is an important part of your health insurance plan, especially if your annual medical bills start to pile up. Once you reach this limit, your insurance will cover any additional costs for the remainder of the calendar year. 
Types of Medicare Advantage Plans
Medicare Advantage plans come in many forms, including:
Preferred Provider Organization (PPO)
Private Fee-for-Service (PFFS)
Special Needs Programs (SNP)
Medicare Savings Account (MSA)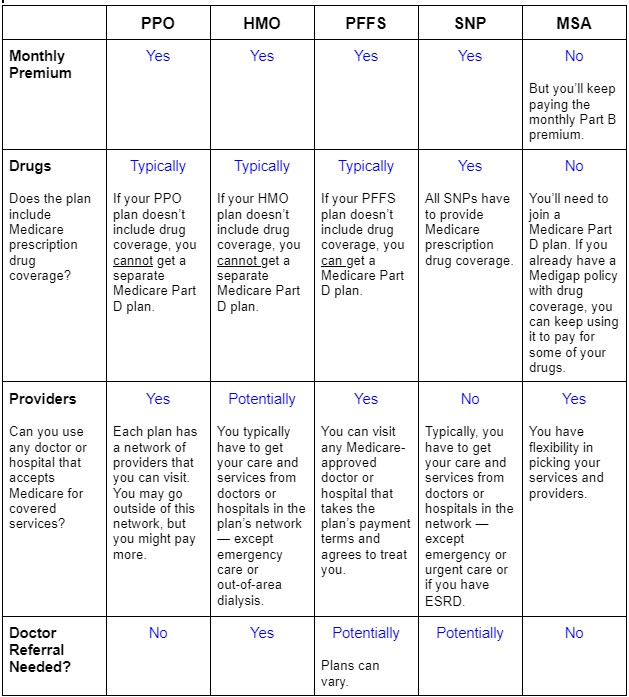 With a Medicare Advantage plan, you're limited to getting coverage within a certain network of providers. You can go out of network to receive treatment for a higher cost, but an out-of-network provider may also turn you down.  
Some plans require you to select a primary care physician (PCP), who will need to give you a referral before you can visit a specialist. If you try to see a specialist without the referral, your coverage won't apply. 
Also, you must have Medicare Advantage by itself. Joining an Advantage plan if you're on an employer group health plan can cause you to lose your group health insurance — and you may not be able to get this coverage back. You also can't enroll in a Medicare Supplement (Medigap) plan. 
You can join an Advantage plan around the time when you're aging into Medicare, during your Initial Enrollment Period (IEP). This is a seven-month time span between the three months before you turn 65 to the three months after. 
You also have other options. Once you're enrolled in Original Medicare, you can join a Medicare Advantage plan during the Annual Enrollment Period (AEP), which goes from October 15 to December 7.
If you missed your IEP, you'll have to wait until the General Enrollment Period (GEP) to enroll in Original Medicare. This window will last from January 1 to March 31, and then you can switch to Medicare Advantage during AEP of that same year.
Talk to ReLion Insurance Solutions
At ReLion Insurance Solutions, our licensed experts can answer questions about anything related to Medicare. Whether you just turned 65 and are looking for a plan, or you're in a plan that's not working out, we're here to serve you. Contact us — we'll help you find the Medicare Advantage plan that fits your health and financial needs!