Choose a Private Alternative to Parts A and B
When you're exploring your Medicare coverage options, you'll learn that you can choose a Medicare Advantage (Part C) program as a private alternative to Original Medicare (Parts A and B). These plans can provide healthcare services that Medicare does not, sometimes for a monthly premium as low as $0.
Learn the Plan Differences
In light of this, Medicare Advantage plans have some rules that you must follow to get coverage. There are different plans with different restrictions. Two of the most common types of Advantage plans are HMOs and PPOs. ReLion Insurance Solutions will explain how the costs and coverage differ for these types of programs — so you can decide which is best for you. 
Medicare recipients can access their services through health maintenance organizations (HMOs). How it works is the insurance company contracts with certain doctors in your area to form a network. When you join a Medicare HMO, you agree to receive your care through the plan's network — unless it's an emergency. Using an out-of-network provider will typically result in you paying the FULL cost of services all by yourself. 
A primary care physician (PCP) will manage your healthcare and refer you to specialists as necessary. If your current physician is not part of the HMO plan's network, consider switching to another doctor. Since you have to use services within a network, HMO plans may not be available in certain regions. 
A preferred provider organization (PPO) plan also has a network of healthcare service providers. You can see any Medicare-approved provider you wish, although it costs less to stay in the network and use a preferred provider.
Medicare PPOs grant you more flexibility than HMOs because you don't need a PCP, and you can arrange your own healthcare services. In most cases, you don't need a referral to go to a specialist. With a Medicare Advantage PPO plan, you have more providers to choose from, which is why this type of plan is available in most regions.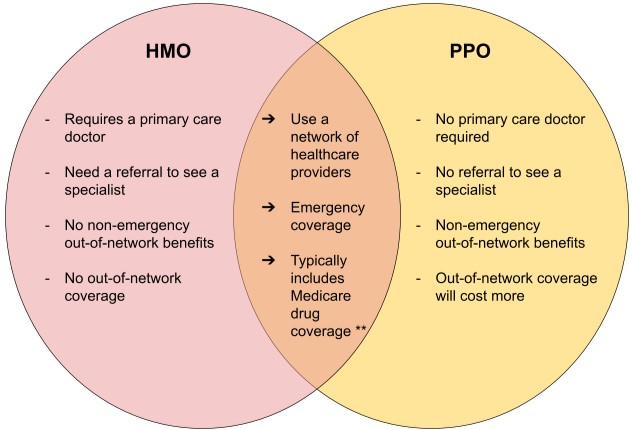 Both HMOs and PPOs use a network. The main difference is how you can use the networks. 
Both types of Advantage plans may cover additional services, like dental, vision, and hearing care. Additional benefits may increase your monthly premium or other out-of-pocket costs. You can use the Venn Diagram above to compare.
Which Plan Is Right for Me?
If you desire more freedom among providers and like the concept of conducting your own care, talk to your agent about joining a PPO plan.
If you're looking to pay lower premiums and are okay with your PCP coordinating your care, we recommend joining an HMO plan.  
Each type of Medicare Advantage plan has pros and cons. When searching for an HMO or PPO, consider which type would be most suitable for your healthcare needs, budget, and location.
ReLion Insurance Solutions Can Help!
Choosing between an HMO and a PPO plan is an individual decision. The right choice for your friend, neighbor, or family member may not be the right choice for you. If you're interested in joining a Medicare Advantage plan but aren't sure which option is best, reach out to ReLion Insurance Solutions. 
We can help you review variables unique to your situation, such as whether your physician is in the network and if the plan includes a prescription drug formulary listing your meds.