Understand the Costs of Medicare
Before choosing a Medicare plan, it's helpful to know what you should expect to pay before your insurance kicks in. We've provided the basic information for Medicare costs. For more specific details, contact a licensed agent at ReLion Insurance Solutions.
Part A is hospitalization coverage. It's usually premium-free to everybody who is eligible ($0 with 40 quarters – roughly 10 years of work).
Those with 30-39 quarters worked will pay a $259 premium for Part A.
Those with less than 30 quarters worked will pay a $471 premium.
There is a $1,484 deductible for each benefit period of 60 days or less. So, if you're in and out of the hospital many times in one year, you'll pay Part A deductibles.
Days 1-60: $0 coinsurance
Days 61-90: $371 coinsurance per day
Days 91+ $742 coinsurance per day — up to 60 days over your lifetime.
Beyond lifetime reserve days, you'll be responsible for all costs.
You can avoid these out-of-pocket costs when you purchase a comprehensive Medigap plan.
Part B is not free. Beneficiaries will need to pay a monthly premium, which includes coverage for a variety of medical expenses. In 2021, this standard amount is $148.50. High earners will pay more. 
The Part B coinsurance is $203 per year, and you'll pay 20% of Medicare-approved medical expenses. Again, you can buy a Medicare Supplement policy to help with that 20%.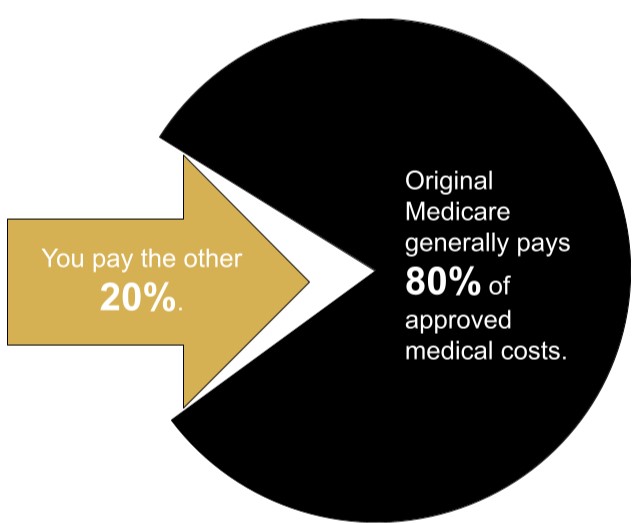 Medicare Advantage (Part C) plans are private insurance plans that you can join as an alternative way to get Original Medicare. The plans were designed to give Medicare beneficiaries a lower-premium option than Medigap insurance.
Some Advantage plans have a premium as low as $0 while others may have premiums closer to $100 per month. The price and benefits vary by state. You'll continue to pay the Part B premium while enrolled in your Medicare Advantage program.
You also pay copayments for approved healthcare services up to the out-of-pocket maximum (OOP), which can be as high as $7,550, but your plan may establish a lower limit. You can check the plan's summary of benefits to see what your copays will be for various services.
Part D is insurance for prescription drugs. Like Part B, Part D costs will vary based on income. Some people qualify for the Extra Help program. 
Most people can expect to pay a plan premium, a Part D deductible and copayment, and a small copay for the remainder of the year. However, some plans don't have a deductible. Your exact out-of-pocket costs will depend on which of the four coverage phases you're in.   
Your Medicare drug plan places your medications into "tiers", and each drug tier costs a different amount.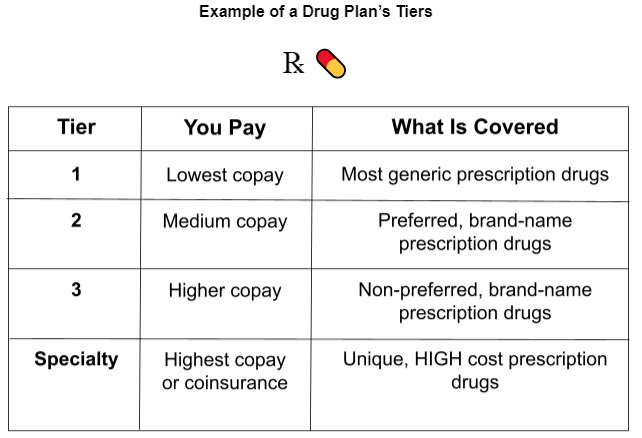 Medicare Supplement Costs
Medicare beneficiaries can choose to add a Medicare Supplement plan to lower their out-of-pocket costs when they get care. You'll pay a monthly premium for your plan, which can vary by insurance company. When you have a health problem, your Original Medicare benefits pay their share (80%) before the Supplement benefits enter and pay the remainder. 
Medigap policies are priced or rated in one of three ways:
Issue-Age Rating: will not increase as you age.
Attained-Age Rating: increases as you age.
Community Rating: Everyone in the 'community' pays the same premium.
Medicare Supplement Costs
Concerned about the costs of Medicare? ReLion Insurance Solutions is here to help you make informed decisions, and save money in the process. Let us help you find the right Medicare coverage at the lowest available price — contact us today.