Thank you for Your Service and Sacrifice
If you have Veterans Affairs (VA) benefits due to your military service, you may wonder if you should enroll in Medicare because you already have access to healthcare at VA facilities. For many veterans, enrolling in Medicare offers an extra layer of protection against heavy out-of-pocket expenses. Medicare coverage can also give you more flexibility in your choice of medical providers.
At ReLion Insurance Solutions, we serve our upstanding veteran clients with Medicare plans that expand their coverage and options for healthcare.
Who Is Eligible for VA Benefits?
If you served in the active military, air service, or naval service and received an honorable discharge, you may qualify for VA benefits.
How Do These Benefits Work with Medicare?
You can have Medicare coverage and VA health care simultaneously. In fact, having both sets of benefits can help you if:
You need individualized care
You have a condition unrelated to your military service
You want to use non-VA providers
If you decide to enroll in Medicare, your VA benefits pay for services authorized by the VA while Medicare pays for services covered by Medicare.
If you have the VA health program, we understand that you don't want anything to interfere with it. However, consider this: if you ever want to use a doctor outside of the VA system, having Medicare will grant you more access to care, hospitals, and other benefits.
For instance, if the VA was to not cover something or have a shortcoming, it's important to be prepared. That's why we recommend someone either have a Medicare Advantage plan designed for Veterans or a Medicare Supplement plan in place — to make sure you don't have any devastating out-of-pocket costs.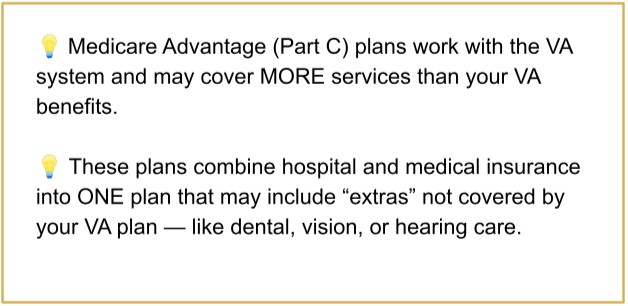 More Benefits. Greater Convenience.
So, your VA benefits cover your care at VA facilities. But having a Medicare Advantage plan makes it more convenient for you to see doctors and hospitals that aren't in the VA system. These providers may be closer to your home, anyway. 
VA benefits also are not the same for all veterans. Every beneficiary is assigned to a priority group that determines how much you'll pay for healthcare services. Those in a lower priority group can take advantage of a Medicare plan to lower their out-of-pocket costs.
As an independent insurance agency, we have access to Medicare Advantage (Part C) plans — designed for veterans — with a Part B giveback.
The best part? You can get ALL these features without disrupting your VA privileges.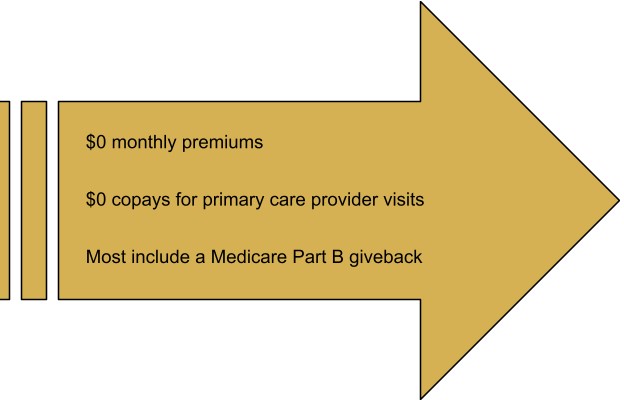 Medicare Advantage Eligibility
Like all Medicare Advantage plans, you must be enrolled in Part A and Part B and live in the plan's service area to join. You'll keep paying the Part B premium — the standard amount is $148.50 in 2021.
We honor the commitment you made to your country. In the same way, it's important to commit to your health and peace of mind. The best way to do that is to be properly insured. 
For questions or to start the process, please get in touch with ReLion Insurance Solutions. We'll inform you about the Medicare benefits you're entitled to and help you get the most out of your plan!